Happy new year! Well, that wraps up yet another year of cafe racer content. Like the previous year, 2021 was challenging for all of us, but it certainly didn't stop custom motorcycle enthusiasts around the world from doing what they love most. We saw outstanding builds from some of our favourite workshops as well as an incredible lineup of bikes by backyard and first-time builders.
As is customary here on Return of the Cafe Racers I've taken a look back over the cafe racers featured this year to pull together another yearly top 10 cafe racer list. As always, it's an eclectic collection of original and unique, modern and vintage custom motorcycles that push the boundaries of cafe racer style and performance.
Every custom motorcycle that appeared on these pages during 2021 passed over my desk. Each one was special enough to warrant an appearance on the site, but there were some real standouts. This top 10 cafe racers list is a collection of my personal favourites. There's no data or statistics involved here, this is simply my opportunity to give 10 builders the extra kudos they deserve. So, in no particular order, here is my selection of the Top 10 Cafe Racers of 2021.
Café Cliché – René Tollkühn's Seeley CB750
By now everyone who follows the cafe racer scene has witnessed their fair share of Honda CB750 cafe racers. Despite the Honda's iconic status, with so many of them being modified, they can all start looking a bit same same. So to stand out in a sea of custom CB750s it takes something pretty special. This awesome Honda CB750 cafe racer by German cafe racer enthusiast René Tollkühn perfectly demonstrates how that's done.
Referring to René as a 'cafe racer enthusiast' is actually a bit of an understatement. He's the founder of the German Cafe Racer Forum which plays host to some 20,000+ members from all over Europe. As you'd expect, holding such a title means he felt a certain obligation when it came to his personal ride. So when the time came to build his latest street going steed he pulled out all the stops.
René's Honda CB750 was originally built by none other than legendary racer and frame builder Colin Seeley. That means that this Honda has one of the best handling early model CB750 frames ever built. Seeley designed the frame in such a way that it could accept most of a CB750's original components along with the engine, so setting up a Seeley chassis CB750 was a relatively straightforward task. René's bike however uses very little of Honda's standard equipment. Infact only the engine block, wheel hubs and handlebar switches are left from the original Honda CB750 Four.
The goal behind this build was simple. René wanted to create his personal interpretation of a cafe racer. His focus was to reduce the bike to the bare minimum required for street registration and to optimise the performance of the engine, suspension and brakes. Everything else, as he put it, is just the icing on the cake.
The result of René's efforts is an impeccable cafe racer project that's dripping with incredible details. He's used both period correct and premium modern components to achieve the best possible result along with some one-off components to make his CB750 truly unique. The stand out here is of course the nickel-plated Seeley frame and the assortment of polished alloy components that tie it all together. Honda cafe racers may be a cliché, but this one is a cut above the rest.

Space Oddity – LYS Motorcycles Buell 1125
This Rotax powered Buell 1125R by French workshop LYS Motorcycles caught me completely off guard when it landed in my inbox. The last time I'd seen a custom Buell that managed to drop my jaw quite so low was when Magpul unveiled their Ronin series. Unlike the Ronin, the LYS Buell isn't made entirely from scratch using computer designed and CNC milled components, but that doesn't make it any less impressive.
The key to this radical transformation is the bike's new bodywork. LYS frontman Dimitri created it by repurposing the front fairing components from an '87 Suzuki GSX750. He started the fitment by joining 2 previously separate parts of the GSX fairing to form a single piece. To make it compatible with the Rotax cooling system he added air scoops at the front. To make the set-up truly unique he's also added a trimmed down tinted perspex screen, a pair of smaller aftermarket headlamps and tiny Motogadget m.Blaze pin turn signals.
For the rear of his Buell, Dimitri built a tail unit from scratch. Its styling takes inspiration from motorcycles of the 1980s and it's been formed from steel. The new tail unit butts up perfectly to a custom fuel tank that has been designed in such a way that sees the bike's K&N air cleaner protruding from its centre.
Dimitri has limited the performance modifications to an Irnox racing exhaust and a remapped ECU. Most of the rest of the bike is the original Buell affair.
Since Buell's like this are only going to increase in value, all of the modifications Dimitri has made can be reversed. The finished bike has a distinct air of endurance racing about it and when that's paired with the slick Mercedes AMG GTR grey paintwork you've got yourself a Buell that's really out of this world.
Shining Example – Shiny Hammer Moto Guzzi 1000SP Spada
French custom motorcycle builder Samuel Aguiar is of a special breed. His education is in furniture design and as you'd imagine he's pretty good at it. By combining those skills with his love of motorcycles he's built some exceptional bikes. Some of his wilder creations take a less traditional approach than this Moto Guzzi 1000SP but it's the classic look of this project that won me over.
Samuel's aim here was to create a "weird cafe racer" using completely handbuilt aluminium bodywork. While I don't consider the result as weird as some of his other creations, the bike is certainly different enough to warrant its inclusion on this list.
Samuel set himself a particularly challenging task with this project by starting with a donor that had been badly crashed. This meant that before any customisation could take place he had to spend time repairing any damage to the chassis. Once he was confident the bike was straight he started on the new bodywork.
Being the kind of builder who likes to do everything himself Samuel had to upskill to achieve what he wanted. This meant learning to weld aluminium from scratch which is no mean feat – not that anyone is likely to notice though. There isn't a visible weld or flaw in sight! Infact Samuel was so happy with the result of his efforts he's given the Guzzi a befitting shiny polished alloy finish.
Other modifications to this Moto Guzzi include a rebuilt and lowered front end wearing clip-on handlebars. Air-filled Fournales rear shocks that level out the bikes bone line. Larger 36mm Dell'Orto carbs and a custom stainless exhaust. A nardo grey leather seat to match the engine cases and frame, and a Motogadget Chrono Classic gauge complete the look.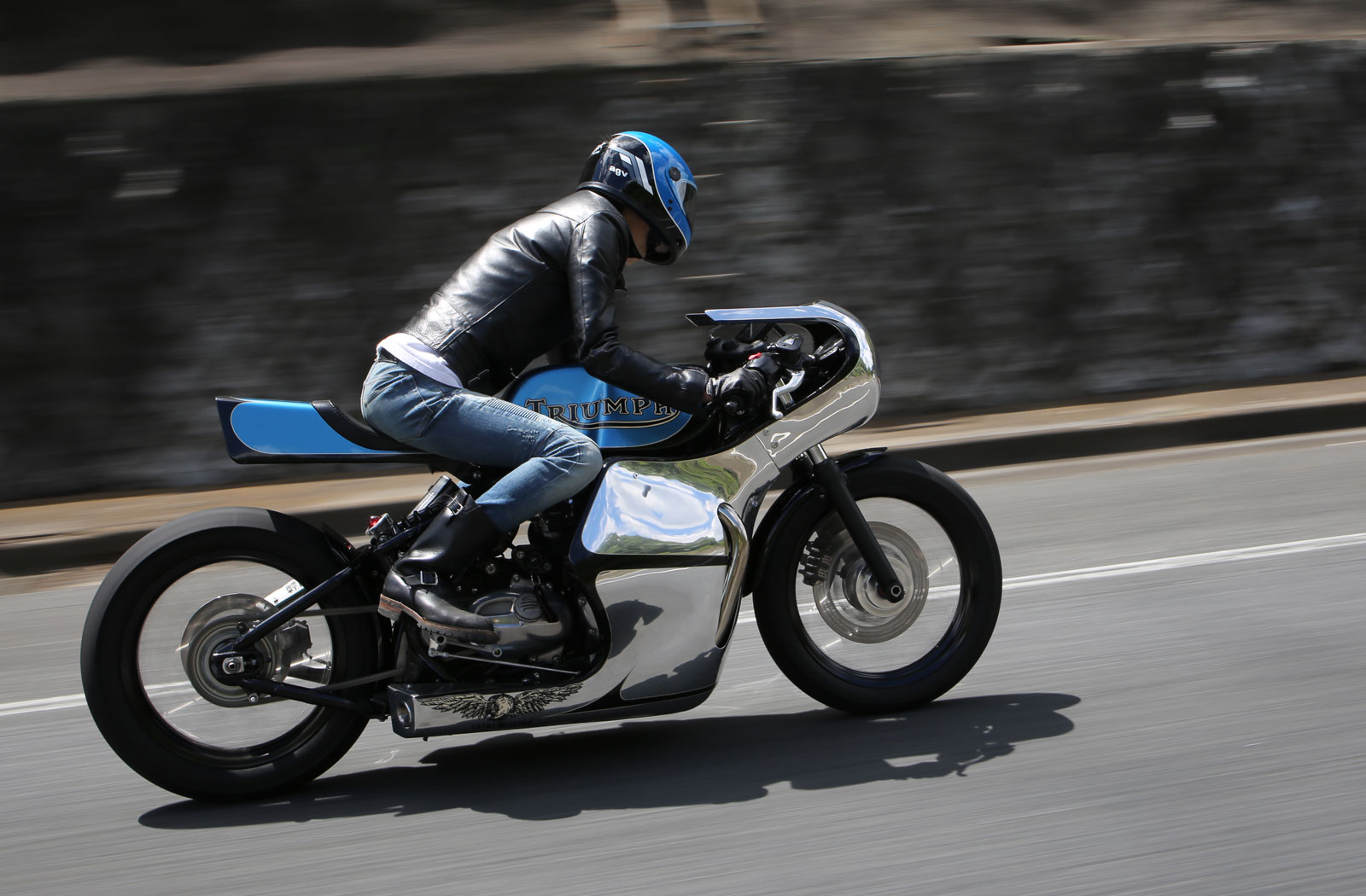 What about Bob? – Hidemo Triumph Bobber
The release of the BMW R18 may have stolen the spotlight away from the Triumph Bobber but it still remains a hot favourite in the modern classic scene. In cafe racer circles the Bobber isn't a motorcycle most would consider a suitable donor. Despite this, a few workshops have given it a go. None however have captured my imagination quite like this Triumph Bobber cafe racer by Japanese workshop Hidemo.
I've been a fan of Hideya Togashi's work, aka Hide Motorcycles, since the early days of setting up this website (circa 2006). Back then he focused mainly on Harley platforms and chopper styles, but his work has always had a sleekness about it. His 'Lake Placid Blue' custom Triumph Bobber has a clear link back to those bikes that first put him on my radar.
Built for a trusting client Hideya-san's brief was to build a bike with a full front cowl. Outside of that instruction he had complete freedom to build what he wanted. Since Bobber styling and front fairings are somewhat contradictory Hideya-san decided a cafe racer was the way to go.
Along with the behemoth aluminium front cowl, Hideya-san hand-formed an alloy tank and tail. His design was inspired by the body kits produced by Dunstall in the '60s and '70s and they're held in place by a custom made subframe. To make riding this beast possible Hideya-san has also completely revised the riding position using clip-on bars and Tarozzi rear sets. The bike also now rolls on matching 18-inch rims to balance everything out and set it up for more spirited riding.
Hidemo's Triumph Bobber may be an oddball of a cafe racer but I doubt anyone would refuse a ride on it, myself included.
V-Twin in disguise  – AMS Garage Harley Street 500
Our unofficial 'guess that bike' award for 2021 would definitely go to Bali's AMS Garage. Workshop frontman Ajus Mulyawarman is a wizard when it comes to shaping aluminium and his Nagabunda neo-cafe racer demonstrates this perfectly. The bike looks like something that rolled off the set of the latest Michael Bay sci-fi, but believe it or not, hidden beneath that extreme exterior is a Harley Davidson Street 500.
Looking at the bike it is instantly apparent that very little of the donor bike remains. Over a period of 8 months, Ajus and his team custom made about 70% of this bike from scratch. Starting with the chassis they rebuilt the entire rear section and fit it with a single-sided swingarm of their own design. A revised suspension setup then transformed the bikes stance from cruiser to cafe racer. The rear uses an Ohlins monoshock while the front end is actually a girder setup with the spring hidden behind the Predator-esque front fairing.
Everywhere you look on this bike you'll find custom made details. From the handlebars to the LED lighting. But the highlight is, of course, the elaborate bodywork which has been made even more impressive by the different finishes they've painstakingly applied to the raw aluminium by hand.
The Street 500's v-twin is probably the least modified component of this build. It inhales freely through a custom air cleaner and exhales via an intricate pie cut stainless exhaust. Although performance would only differ slightly from a stock Street 500, riding Nagabunda would be an entirely different experience altogether.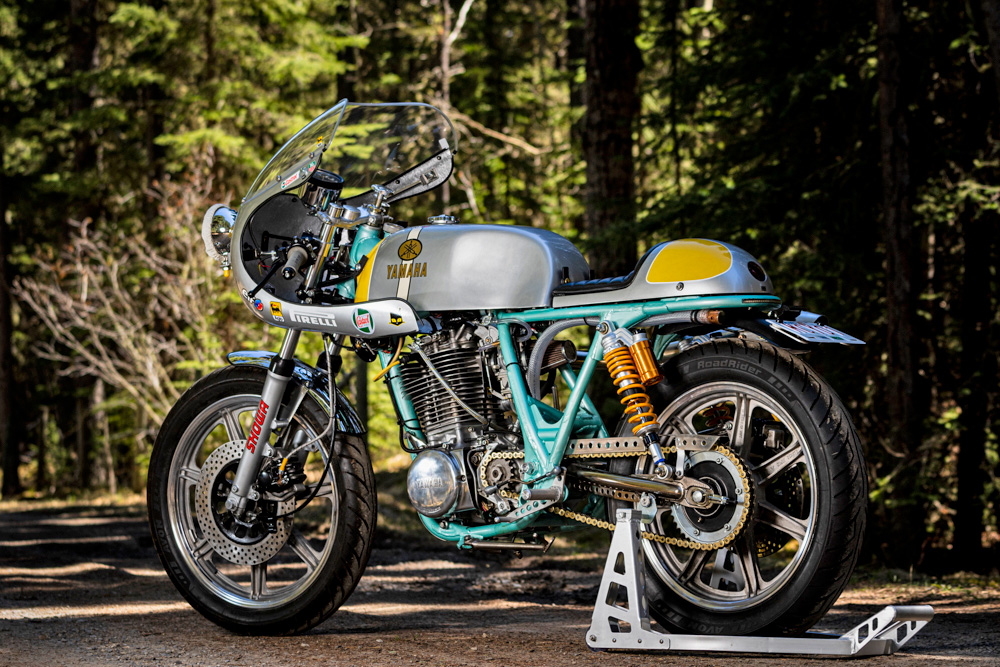 Lucky Girl – Stu Lloyd Yamaha SR500 e
I doubt that very few people can lay claim to having a first bike anywhere near as cool as this! This extensively modified Yamaha SR500 e is the work of ex-aircraft tech Stu Lloyd and he built it for his very lucky 12-year-old daughter.
Built over a period of 3 years the Yamaha is a mash-up of parts from 9 different donors. These include rear brake components from a KTM 50 SX and a Yamaha R1, switchgear from an RD400, the levers and top clamp of an XS650 and tank decals from a TZ350 to name a few. There's also a long list of aftermarket additions from the likes of Omega Racer, Moto Lana and Motogadget. And an even longer list of handmade components which Stu designed and built himself.
The SR500 is Stu's homage to the original British cafe racers and was created using Colin Chapman's (Lotus Cars founder) "To add speed, add lightness" approach to building. As a result, the SR weighs a fraction of its former self and handles like it's on rails.
Despite looking like a track bike Stu's Yamaha is 100% street legal so his daughter is sure to have a blast on it when she eventually gets her license. I just hope she appreciates it as much as we do!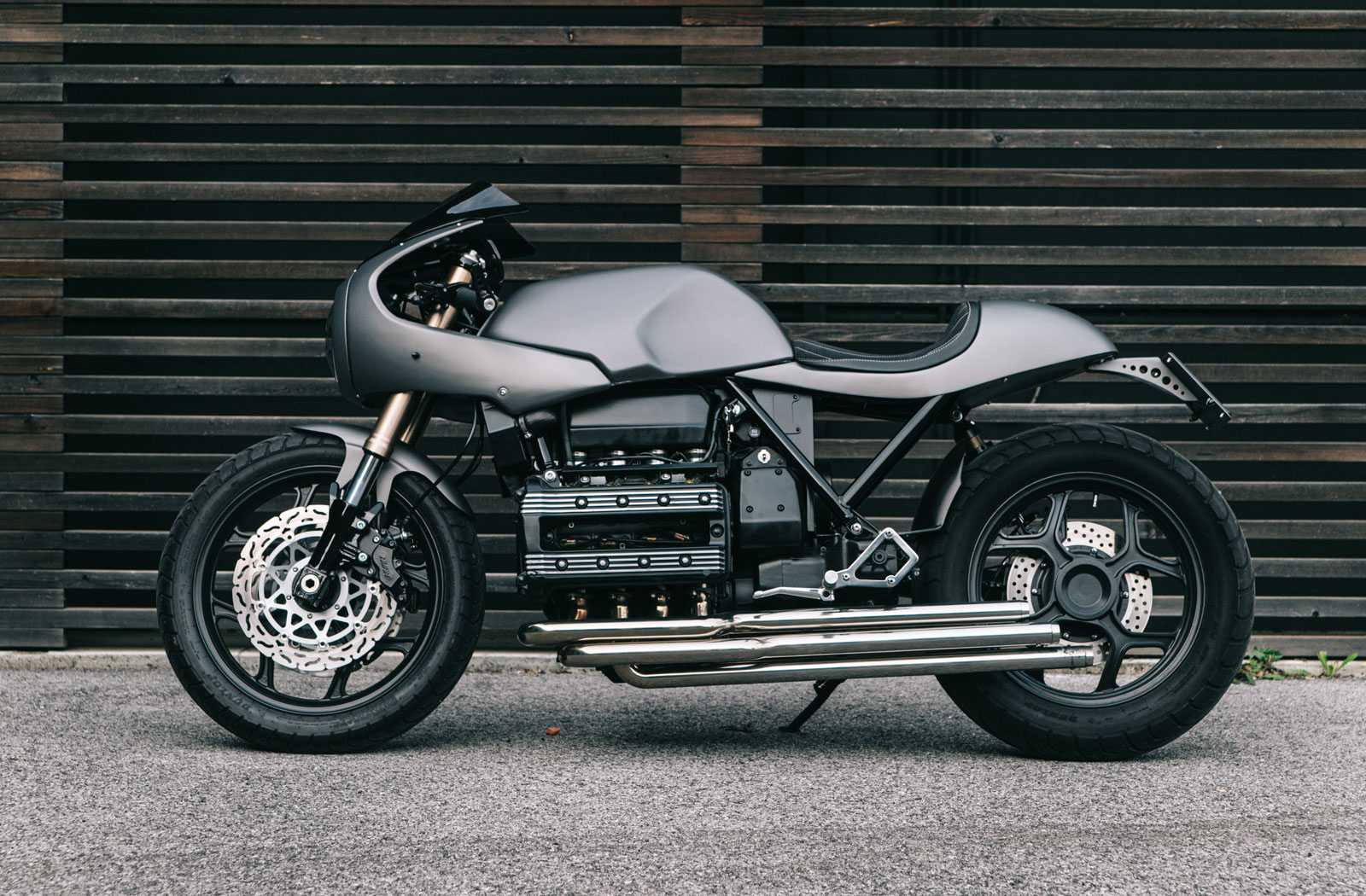 Brick Brilliance – Mans Custom Worx BMW K100
Flying bricks have never been a hot favourite of mine, but the understated excellence of this K100 cafe racer had me reevaluating my opinion. Built by Mans Custom Worx, a 4 man team of skilled builders from northern Italy, the aptly named Number 1 is the first project the team has completed and it's a hell of a way to kick things off.
The Mans team consists of a skilled metal worker an AMD World Championship winning bike builder a high-end automotive upholstery and interior expert and a creative entrepreneur/restauranteur who was the brainchild behind the collaboration.
Number 1 started life as a 1989 BMW K100 grand-tourer. The team's goal was to transform the behemoth into a sleek BMW cafe racer which is by no means an easy feat. Achieving their goal was done in several stages starting with a complete modern suspension overhaul. They then transformed the look of the bike using a modified R9T fairing, a custom rear cowl and a modified version of the original K100 fuel tank. To simplify things up all of the lighting has been converted to the smallest LED components they could find and the dash features a single Koso digital gauge. Lastly, the engine was overhauled and fitted with a one of a kind 4-into-4 exhaust system.
Finished in a sinister matte gunmetal grey and black scheme this BMW K100 was a shoo-in for this years top 10 list. Thanks to this stellar first build I'm very excited to see what the Mans Custom Worx team has in store for us in 2022.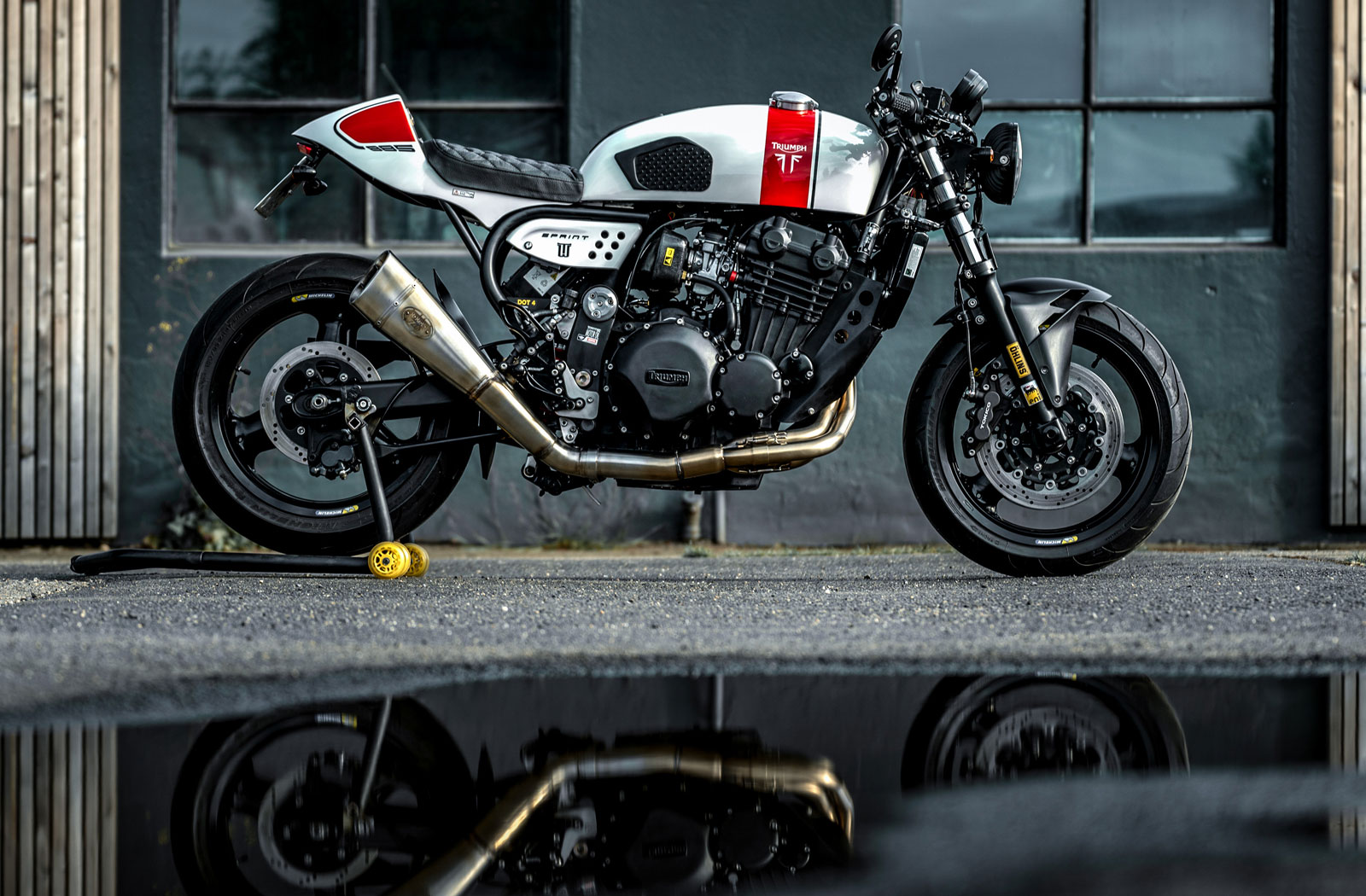 Triple Treat – Tomas Wrede Triumph Sprint
Very few of the builds we feature set out to improve on every aspect of a motorcycles original design. But when Tomas Wrede plans his projects that's exactly what he has in mind. This Triumph Sprint 900 cafe racer is just one of many custom bikes Tomas has built for himself.
Triumph designed the Sprint to be a sport-tourer and it's not uncommon to see examples with well over 100,000 km on the clock but it certainly isn't your typical cafe racer candidate. The biggest hurdle Tomas had to overcome was the Sprints long wheelbase. The stretched-out stance simply wasn't suitable for his cafe racer aspirations so Tomas had to completely redesign the setup.
Using components from a Triumph Sprint ST and Ohlins he revised the front end. In the rear, he fit YSS shocks of his own specification and a shorter Triumph Thunderbird swingarm. To help visually tighten things he then installed a curved Ducati radiator and a fatter exhaust system to close the gap between the front wheel and the engine.
The Hinkley triple powering this bike has been thoroughly rebuilt. Along with an external freshen up the internals have been tweaked to optimise performance. Tomas then added a full Zard exhaust, a performance air filter and tuned the whole setup using a Dynoject PCM. Unsurprisingly he's also stepped up the brakes using parts retrofitted from a Kawasaki ZX9R.
As for aesthetics Tomas hit up Tracey from Cafe Racer Kits and secured himself a subframe kit, custom fuel tank, side panels and a rear mudguard which he paired with a Norton Dominator tailpiece.
The complete list of modifications to this Triumph is extensive and comprehensive. Those factors combined with how good this Sprint 900 cafe racer looks make it a worthy addition to this year's accolades.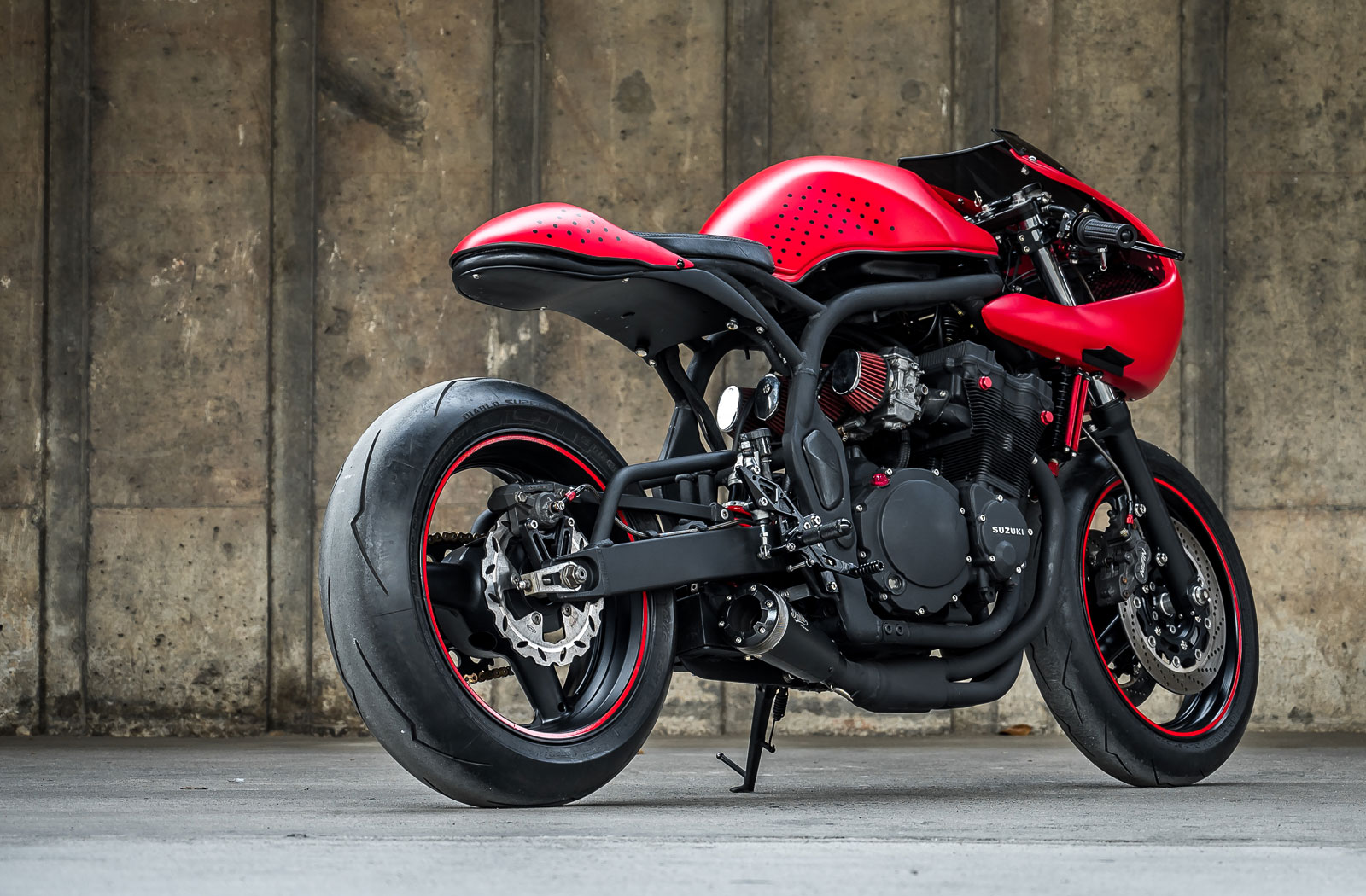 Bitchin' Bandit – KSpeed Workshop Suzuki Bandit 600
It was an honour to have featured several builds by the esteemed Thai workshop K-Speed during 2021. Workshop frontman Tanadit Sarawek has an astounding 300 custom builds to his name and that number is growing at an exponential rate. Amongst his 2021 projects was this muscular Bandit 600 and although it's mainly an aesthetic overhaul, it is an exceptional transformation of Suzuki's evergreen UJM.
This build was a personal project of Tanadits. His goal was to generate interest in the Bandit platform which had its heyday during the nineties hooligan bike scene. Tandit sketched out the design for the bike himself before handing it over to his team to realise under his supervision. The finished bike is a mix of custom made, one off components and parts from K-Speed's own 'Diablo' range of aftermarket parts.
The Bandit's bodywork was the most challenging aspect of this project. For this K-Speed created a custom front cowl from scratch that's been installed using bespoke bracketry. In the rear, they've fitted a custom frame loop that houses the new rear cowl and a leather tuck and roll seat. To keep the tail extra tidy the bottom of the hoop has been enclosed using another custom panel and the license plate has been relocated to sit beside the rear wheel.
Aside from the bodywork most of the other parts are bolt-on additions that complete this transformation. The icing on the cake however is the bike's new paint scheme. The bold satin red on black scheme gives the Bandit a sinister look that's very well suited to K-Speed Diablo brand.
It's less complex builds like this that demonstrate how a keen eye for design and composition can foster some very impressive results.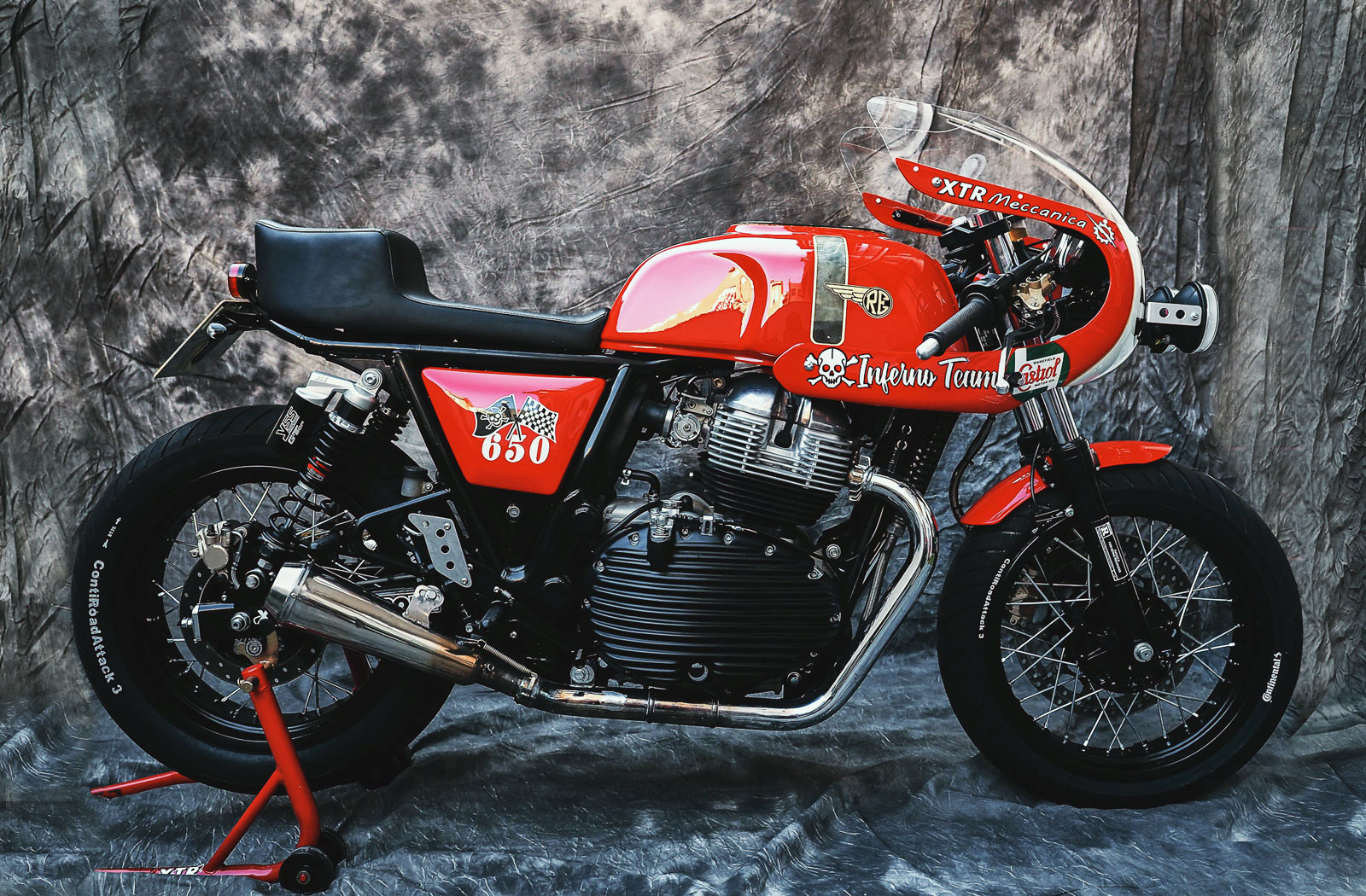 Reborn Royal – XTR Pepo Continental GT650
The last cafe racer to make the cut in our 2021 top 10 list was built by none other than Pepo Rosell of XTR Pepo.
I always look forward to opening Pepo's emails when they land in my inbox. This year I featured several of his builds including his most recent sprint racing Ducati Pantah project. As impressive as that bike is it was his Endurance racing incarnation of the Royal Enfield Continental GT650 that pulled at my heartstrings.
The GT650 is one of the most period correct looking modern classics on the market. Although he'd had no prior experience with the bike, when Pepo was handed the GT650 by a customer it was a match made in heaven. Pepo is renowned for his endurance racing-inspired aesthetic and his application of that style to this Enfield is inspired.
The biggest challenge Pepo faced with this project was retaining the bike's ability to carry a passenger. To overcome this he had to create a unique seat design that mimicked the distinctive endurance racing look. So rather than having a hard rear cowl the seat forms the entire tail. It's all covered in leather and the higher step at the back is filled with foam to accommodate a passenger.
Pepo's GT650 also features a twin headlamp assembly that sits on a fibreglass fairing reminiscent of Ducati styles from the seventies. The fuel tank is a one-off fibreglass design that Pepo modelled off those built by British TT racer Gus Khun. Clip-on handlebars and rear set footpegs set up the correct riding geometry and there's a spattering of race-style parts to complete the look.
As is always the case with Pepo's work the Enfield's performance has also been improved. This has been achieved by upgrading the suspension and brakes, fitting a new exhaust and dropping a whopping 25kg in weight.
---
Lastly, I'd like to say a special thank you to all the builders, both the pros and amateurs, who shared their work with us in 2021. It is all of you who keep this scene alive and kicking by inspiring others to have a go. Keep up the great work and I'm looking forward to seeing the amazing cafe racers you build during 2022!