Keeping yourself protected isn't the only reason to buy dedicated riding gear. Take for instance when the weather turns sour. It's times like that when dedicated wet weather riding gear comes into its own.
Staying dry during an unexpected downpour will mean the difference between a good days riding and a really crappy one. The Icon 1000 Joker WP motorcycle boots are designed to keep you safe, dry and stylish no matter what mother nature has in store.
When the heavens open these tall riding boots offer steadfast dryness owing to a 100% waterproof liner. And, thanks to its breathable design, the liner will also keep your feet free from sweat.
The Joker WP Boots are constructed from a premium full-grain leather in either a black or tan brown finish. At the front of the ankle and up the calf Icon 1000 has integrated a flexible tech fabric for improved riding comfort without sacrificing protection. For ease of fitment and removal, the boots feature a 3/4 length YKK zipper along the rear which is also fully waterproof.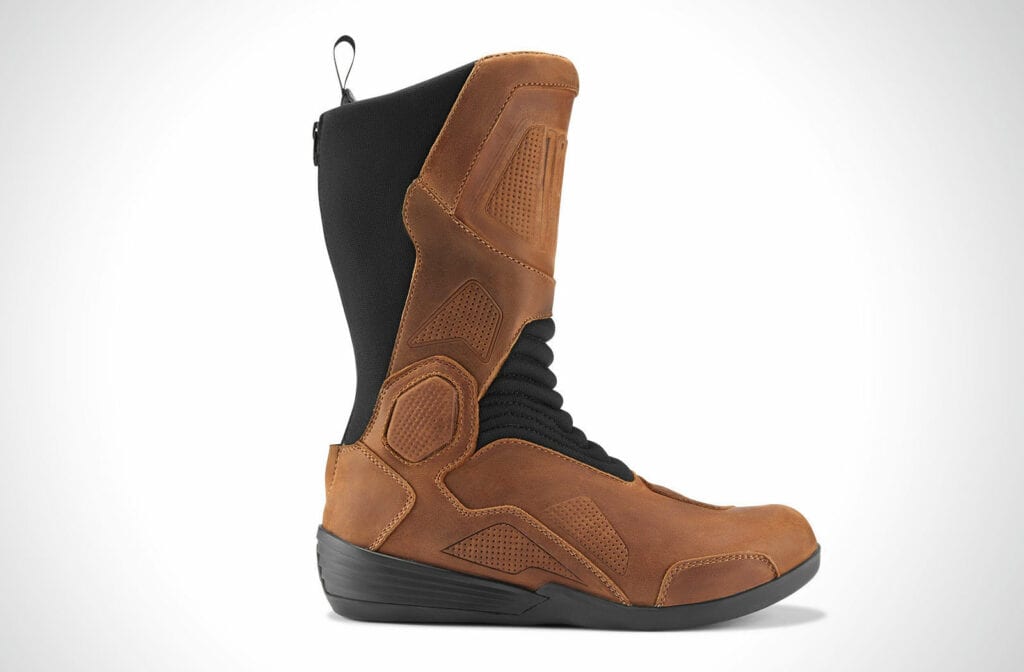 As for protection the Icon 1000 Joker WP boots have you covered. Shielding each side of your ankle against hard knocks is Icon's go to D30 ankle impact plates. A reinforced shin provides additional safeguarding from frontal impacts. And, to round things out, a composite lasting board protects your soles without restricting movement.
For those who regard the appearance of their gear as highly as its performance – Icon 1000 never fail to please. The Joker WP boots are some of the most stylish boots you'll find in the waterproof category and at a smidge under $230 USD they offer impressive value for money too.
Available from: Revzilla