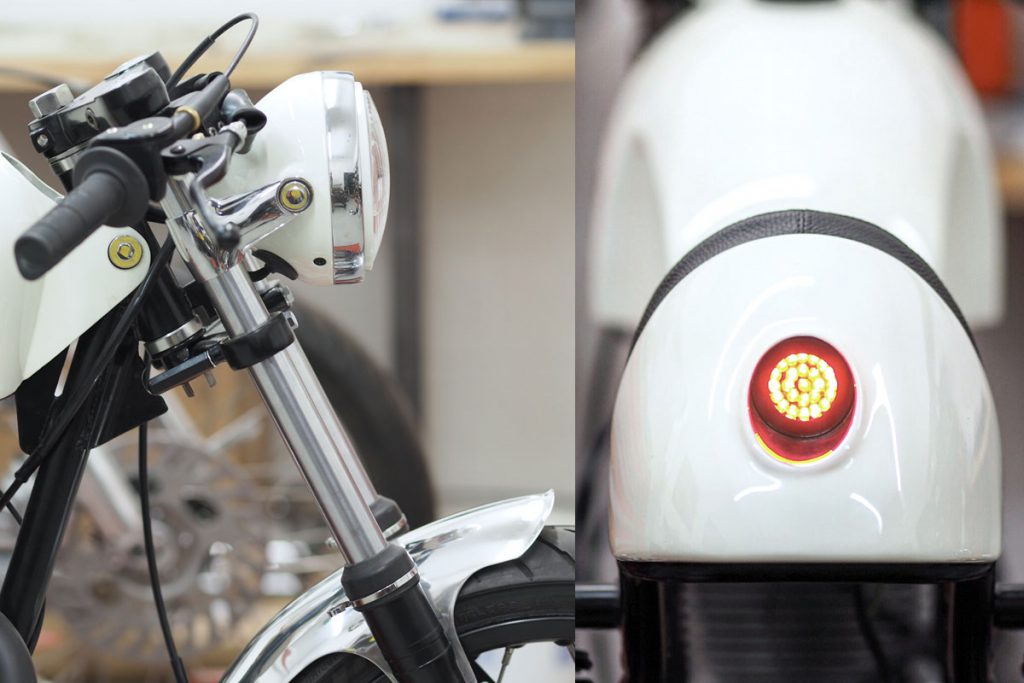 This 350cc single may not be of the same caliber as the performance-focused machines we've come to expect from Ducati, but what it lacks in power this Italian classic makes up for with bucketloads of character. Adam found the Ducati for sale on eBay and decided he'd apply his passion for design to the tiny thumper. "I seem to have a similar aesthetic for all my projects," explains Adam "whether it be motorcycles, automotive or residential design. I prefer clean and minimal with an obsession over details."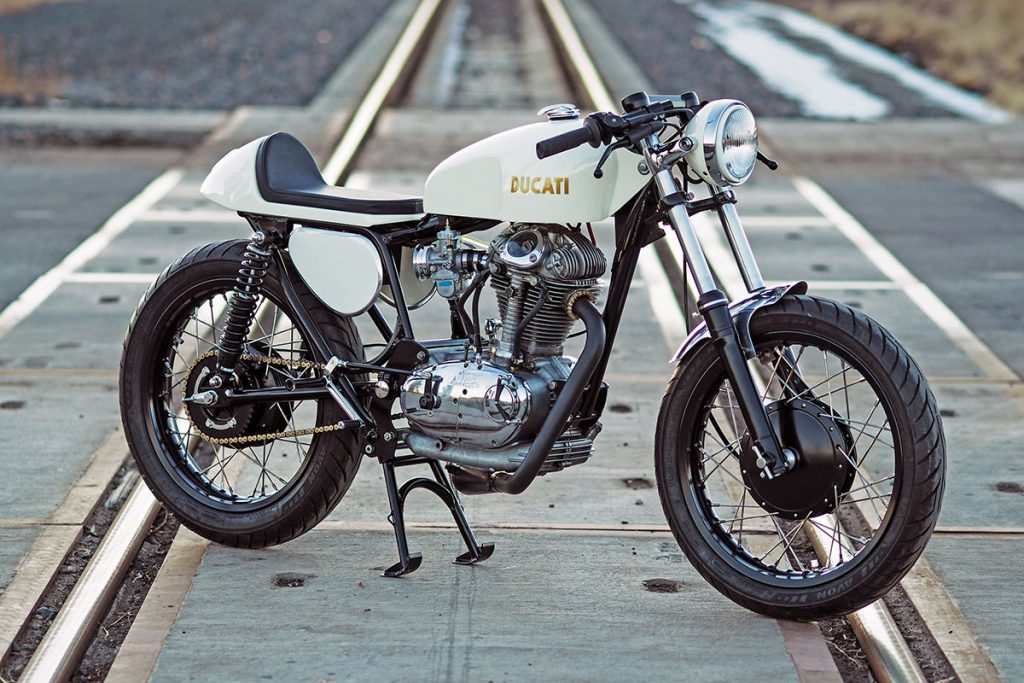 The build began, as most builds do with motorcycles of this age, with a complete teardown. The frame was stripped, excess tabs removed and cleaned in preparation for fresh paint. Adam enlisted the help of his good friends Eric Ludwig and Dave Barker of Speedmetal Cycles to help him realise his vision for the bike. The original fuel tank was modified to add knee dents and a notch in the tanks tunnel added to stow the bikes coil out of view. The pair then designed and built the bikes cafe style rear cowl and seat from aluminium adding a Frenched tail light to keep its rear super clean.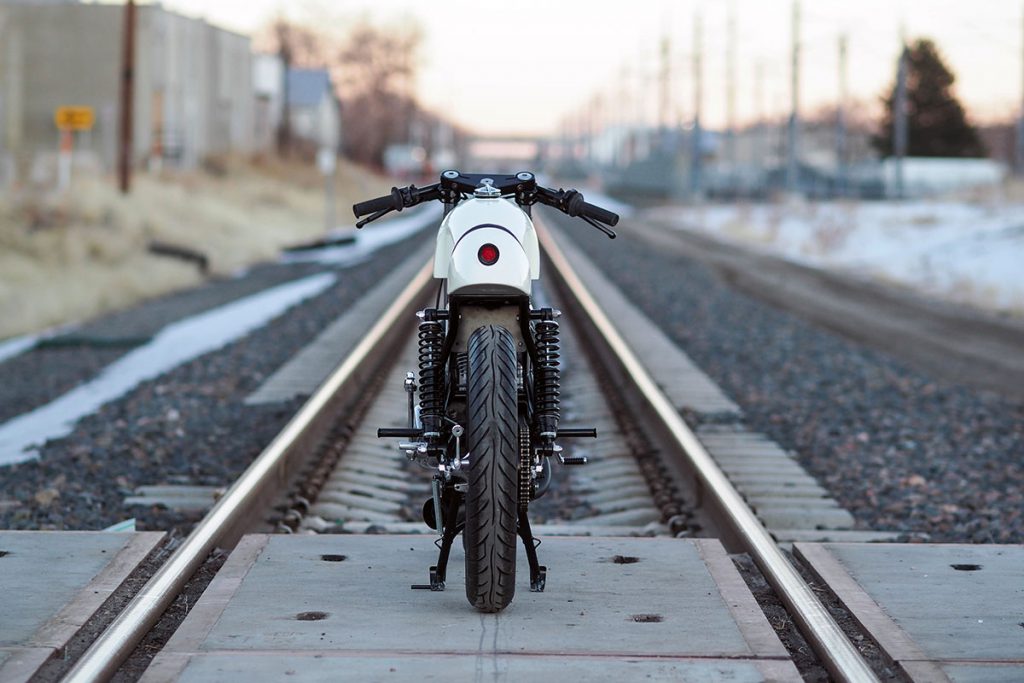 Next Adam stowed the remainder of the bikes electrics beneath the cowl while Eric rolled a new front fender from alloy sheet. To manage the increased weight over the front wheel (a result of the revised seating position and clip on bars) Adam also mounted a set of 35mm Ceriani race forks up front.
As Adam puts it "What I like most about my Ducati is how well everything flows. The proportions are spot on and it has a clean and minimal aesthetic", and I couldn't agree more.
Full build list:
Hand formed tank, aluminum cowl, front aluminum fender
35mm Ceriani race forks (front swap)
Honda CB 350 front drum brake
LSL front headlight, stripped painted, trim ring plated in chrome
All chrome parts replated
All nuts and bolts sourced in chrome
All new electrical, housed under rear cowl
Custom rear sets, plated in chrome
Custom exhaust
Wheels dismantled, rims powder coated black, spokes polished
Mikuni VM30 carb
Rebuilt motor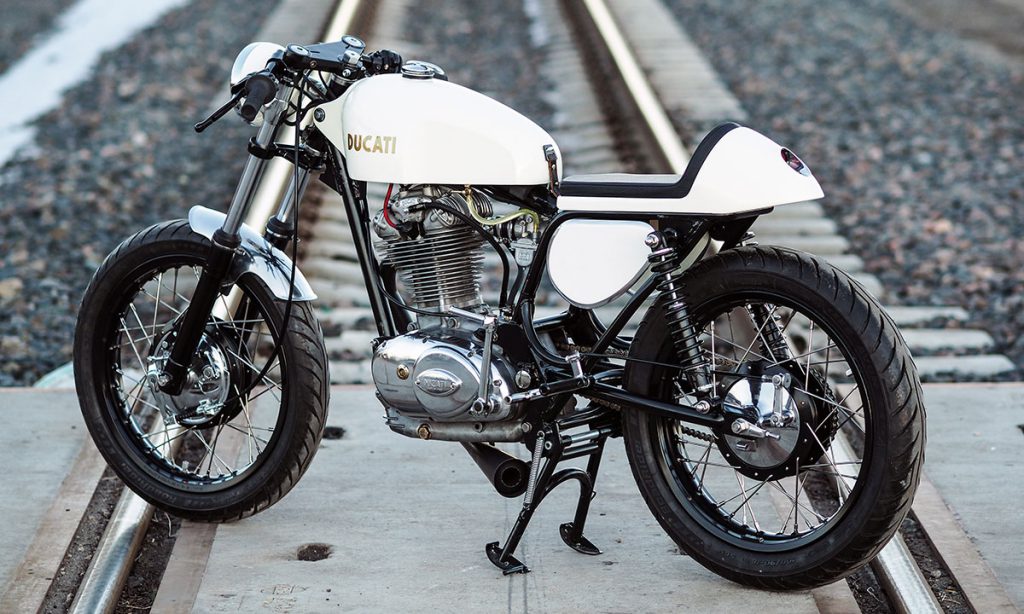 Today it's certainly true that good things do indeed come in small packages. I recently stumbled across this sweet little, '67 Ducati 350 wide-case out of Denver CO and today we have the story behind its creation. Believe it or not, this isn't the work of an established custom workshop or a professional builder. It's a homebuilt bike, pieced together by a man with a keen eye for design by the name of Adam McCarty. Over 18 months Adam rebuilt, modified and redesigned the bike to create this beautifully balanced work of rolling art that would look right at home parked inside the Lourve.