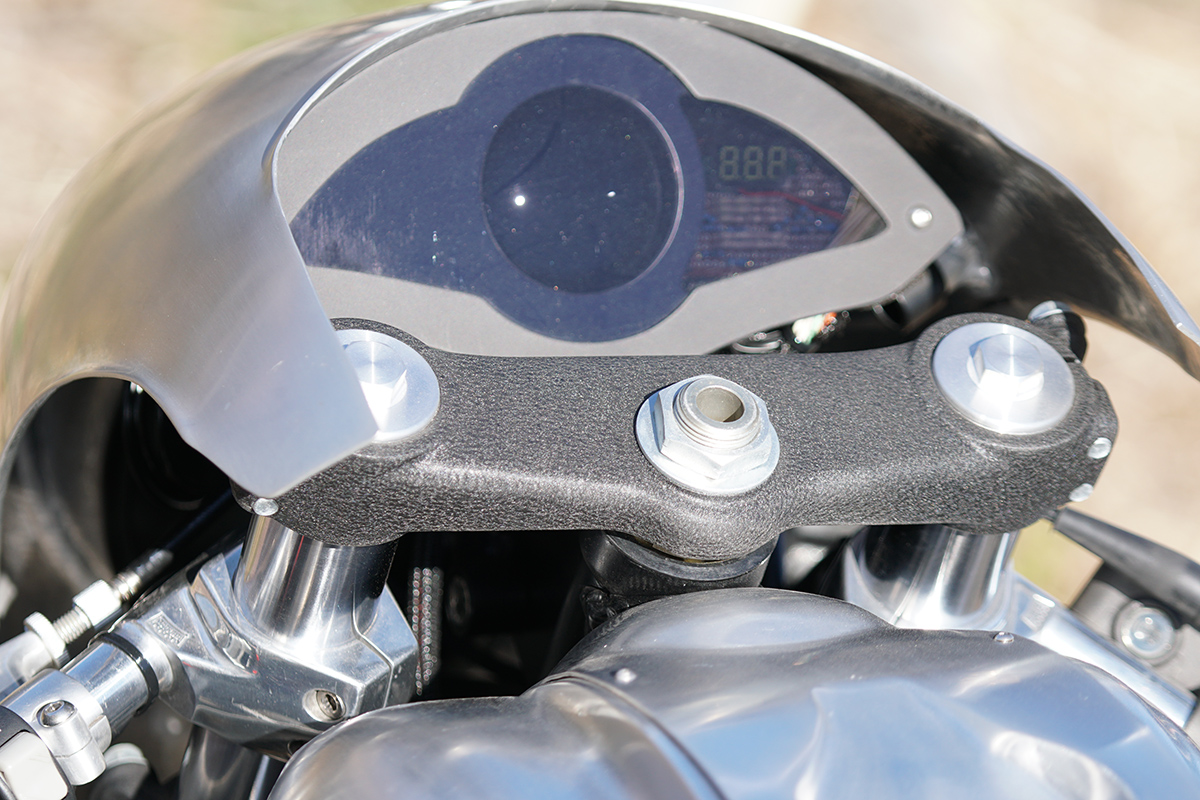 "It is a Honda XLR250R that has been in the works for about 3 years now," says Rad. "I have created several previous versions before getting to this stage!" While discussing this build with Rad he also pointed out that I knew it well. As it turns out this is the same bike Rad brought to Yokohama for me to ride a few years ago. At the time it was customized, but nowhere near the extent, it is today.
Out of the factory, the XLR250R was a dual-sport motorcycle with a distinct off-road flavor. With its tall front end, plastic bodywork and 1990s paintwork it's hard to believe it could ever be converted into anything that resembled a café racer, and yet, just like Rad's Honda TLR200 we featured last week, that's exactly what he has done.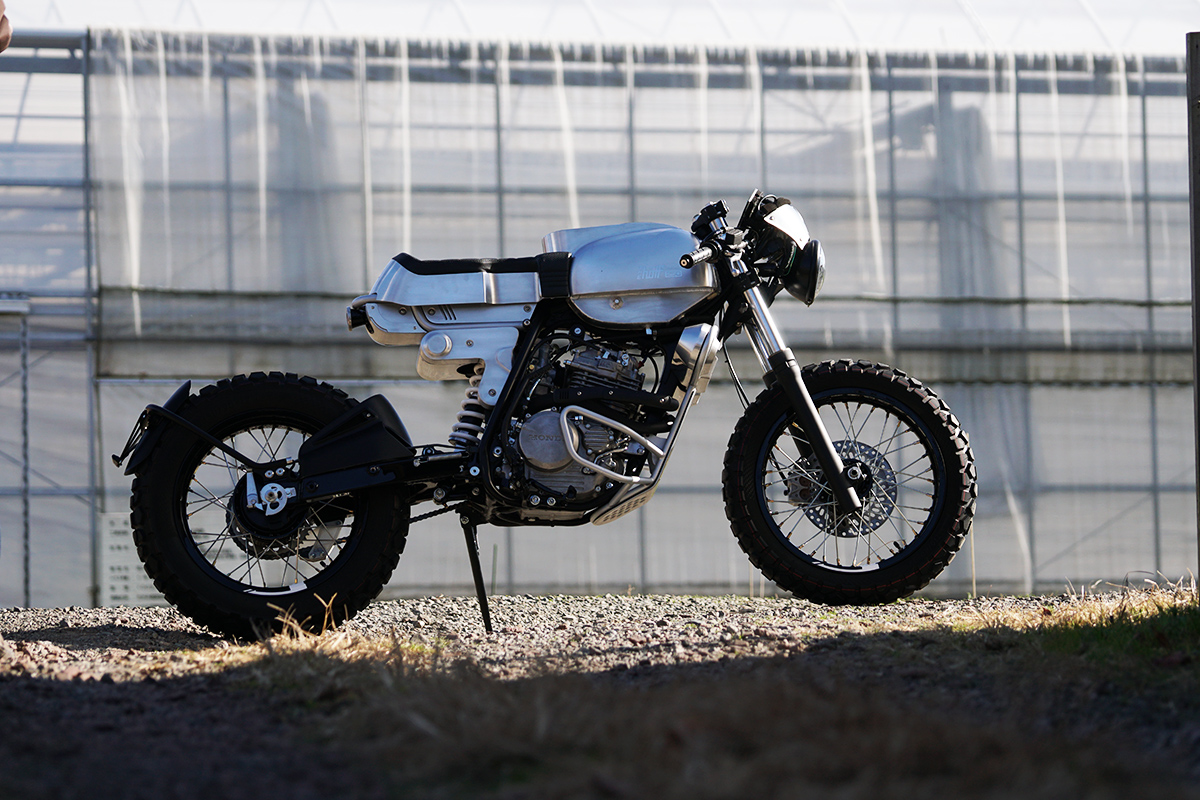 Getting the Honda to sit right was Rads biggest challenge, but surprisingly the mono-shock rear end was unchanged. Instead, he swapped the tall XLR forks for a pair of CB400F legs that leveled out the bikes bone line. To further lower the bike's height he then disposed of the factory handlebars and fuel tank and swapped the 21/18 inch wheel combo with a set of 17 inch Excel rims. To tighten the bike's proportions the rear end was then dramatically shortened, creating a look reminiscent of a hill climber; a style that isn't uncommon on the streets of Japan.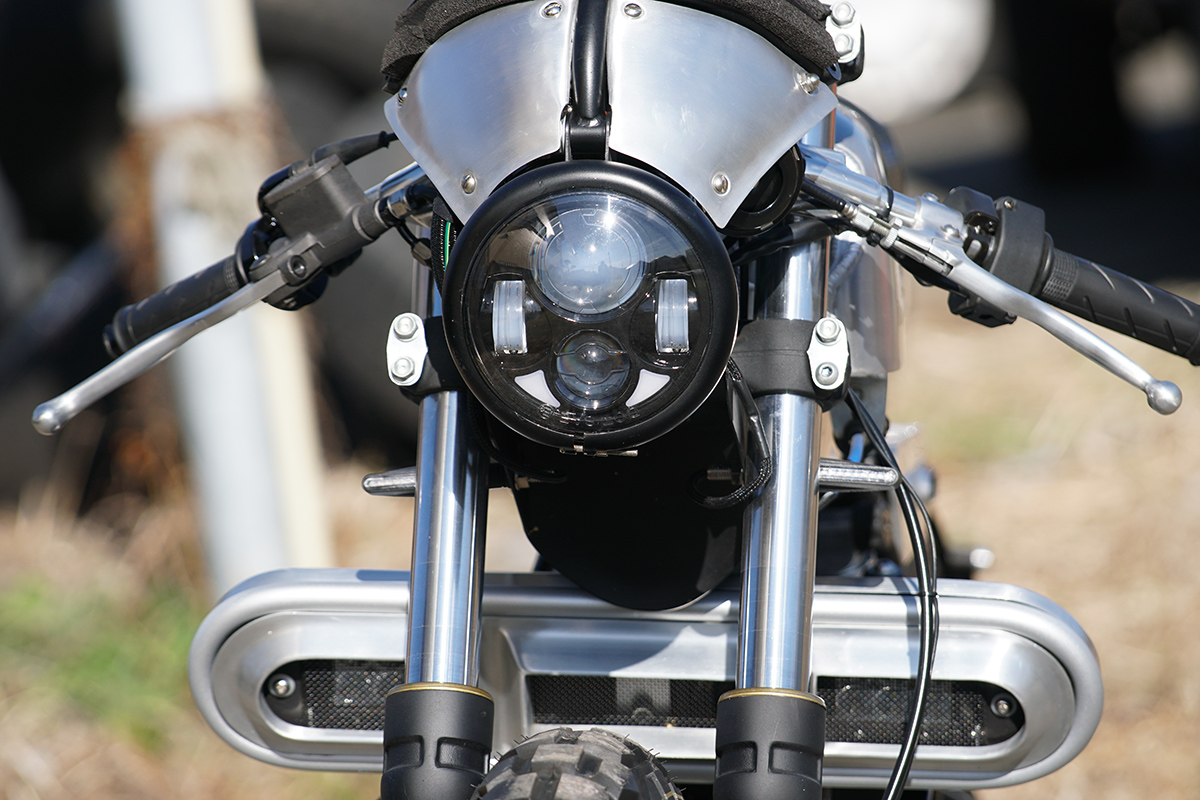 For the bodywork Rad once again didn't hold back, creating every piece of custom alloy bodywork by hand. "My design concept was based on Japanese animation, but I wanted to create a real future look, not Cosplay!" Neo-retro is perhaps the best way to describe the bodywork which blends hard-edged, angular lines with smooth, organic forms. Hints of the XLR's old off-road life can be seen in the engine bash plate and the spotlights housed within the unconventional pill-shaped alloy box sitting behind the front forks. Up front, there's also a half fairing that can be easily removed for a naked look.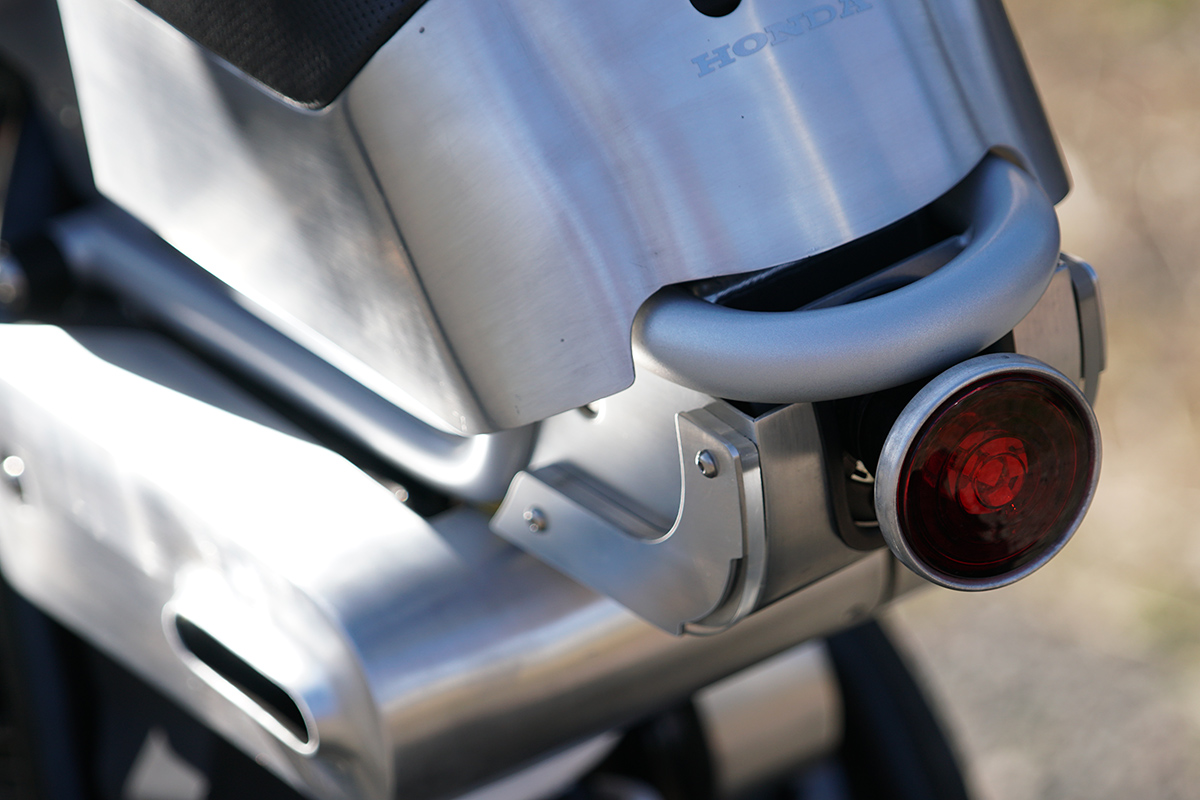 In keeping with his futuristic theme, Rad has concealed the bikes exhaust system. To do this he's created a custom muffler beneath the tail that seamlessly blends into the bodywork. As with his other Honda everything constructed from aluminum has been left raw to show off his handy work and it's easy to see why. When it comes to performance, these small bikes are never going to break any records, but by upgrading his XLR to a ME06 competition engine its got enough get up and go to tackle Tokyo's high-speed expressways.
Photography courtesy of Gas Tank Magazine
All good things come in pairs. Take for instance Rad Yamamoto's (aka Ask Motorcycles) latest project.  This is the second custom build that Rad displayed at the Mooneyes Show in Yokohama, Japan and, like the first, its clacustom-made made aluminum bodywork that was created entirely by his own hands.