Located in Graz, Austria 'Vagabund Moto' is the brainchild of designer Paul Brauchart and mechanical engineer Philipp Rabl. "Both of us started working on vintage motorcycles early in life because we love these old pieces of metal" says Paul, who proposed his CB450 be their first combined project. "We want to create motorcycles that are not simply lifestyle products or basic transport. For us it's about building a functional piece of art".
According to Paul trying to find a compromise between usability and design can be a challenge with Austrian legislation, but the two seem to be dealing with the limitations incredibly well. "We love to keep our designs minimalistic. We'll work on almost any motorcycle brand or model and prefer to build handcrafted parts when possible. Before we start each build we do a time consuming, realistic sketch of the new design for our customers. The customer is king, but we always try to implement our own design style."
Paul's 1972 Honda CB450 K5 Cafe Racer was developed in line with their personal brief of clean lines and a minimalist finish. The bike has been "downsized" by removing everything deemed as unnecessary and along with functioning as a showcase of their work it's still functioning asPaul's personal ride.
After being stripped bare the rear of the CB's frame was replaced with a kicked loop that cleverly incorporates the bikes LED running lights and rear indicators. A wheel hugger style number plate mount helps to keep the tail end clean while doubling as a fender and for improved handling a pair of brushed alloy, RFY piggyback shocks were added.
In place of the stock handlebars the CB450 wears a set of custom made clip ons with CNC milled grips that have been wrapped in brown leather and M-Blaze Motogadget bar end indicators. The hand controls are a mix of Harley and Kustomtech parts and the stock switches have been replaced with flush mounted buttons on the bars and top clamp. The stock instruments have also been removed to make way for a single, tiny Motogadget 'motoscope' dial that sits in the center of the top clamp thanks to a custom bracket that utilises existing mounting points.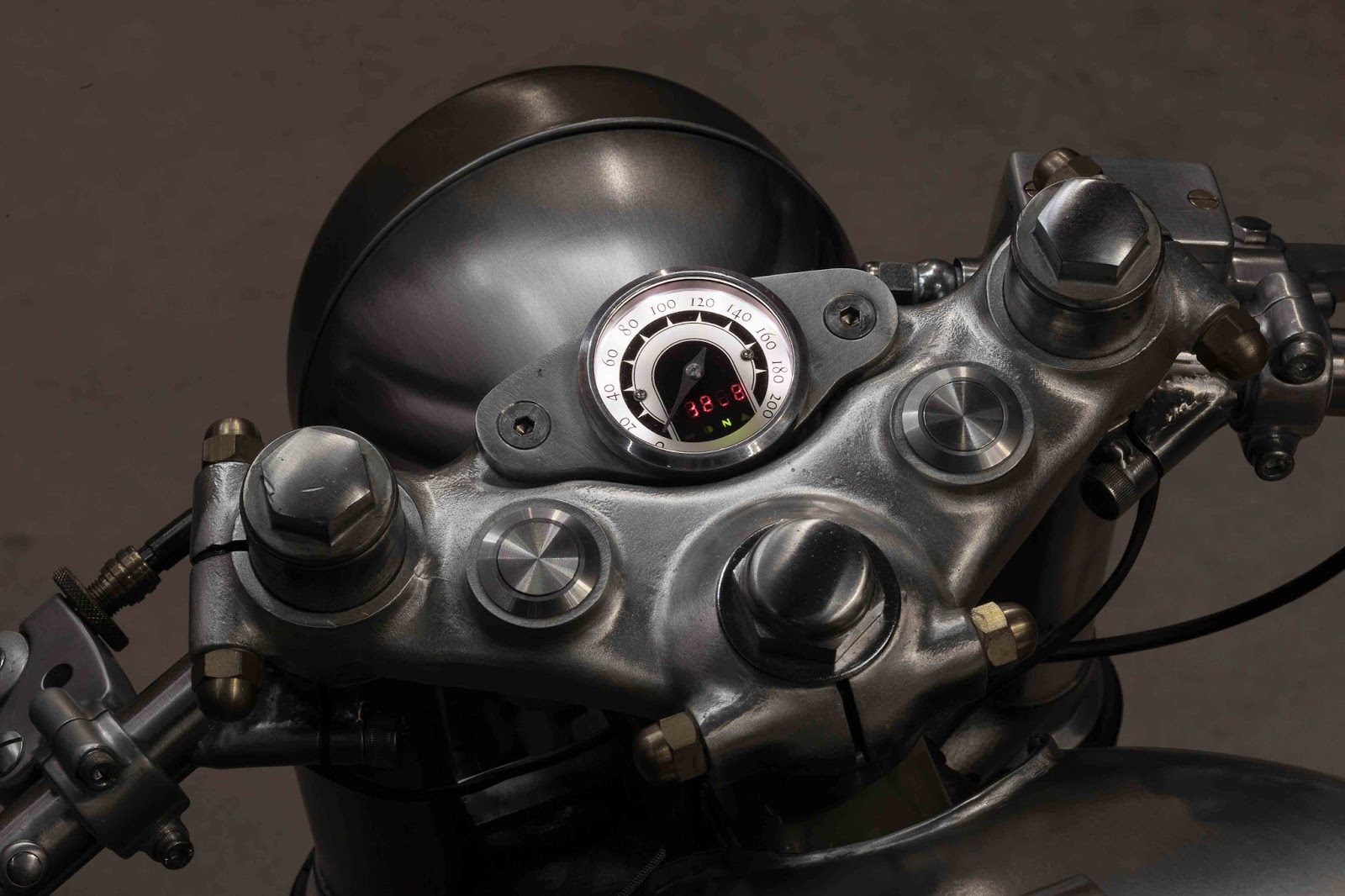 Adding to its minimal finish the bikes wiring has been kept out of view by running it internally wherever possible and the battery and fuses now reside in an alloy tray mounted beneath the seat. Fueling has been improved thanks to the addition of new Mikuni carburettors, tuned to run the K&N pod style filters and the bikes heavily customised exhaust system. For a touch of vintage cool a repurposed Colgate shaving stick tin acts as the oil breather catch can and a Brooks tools bag hangs off the bike's frame.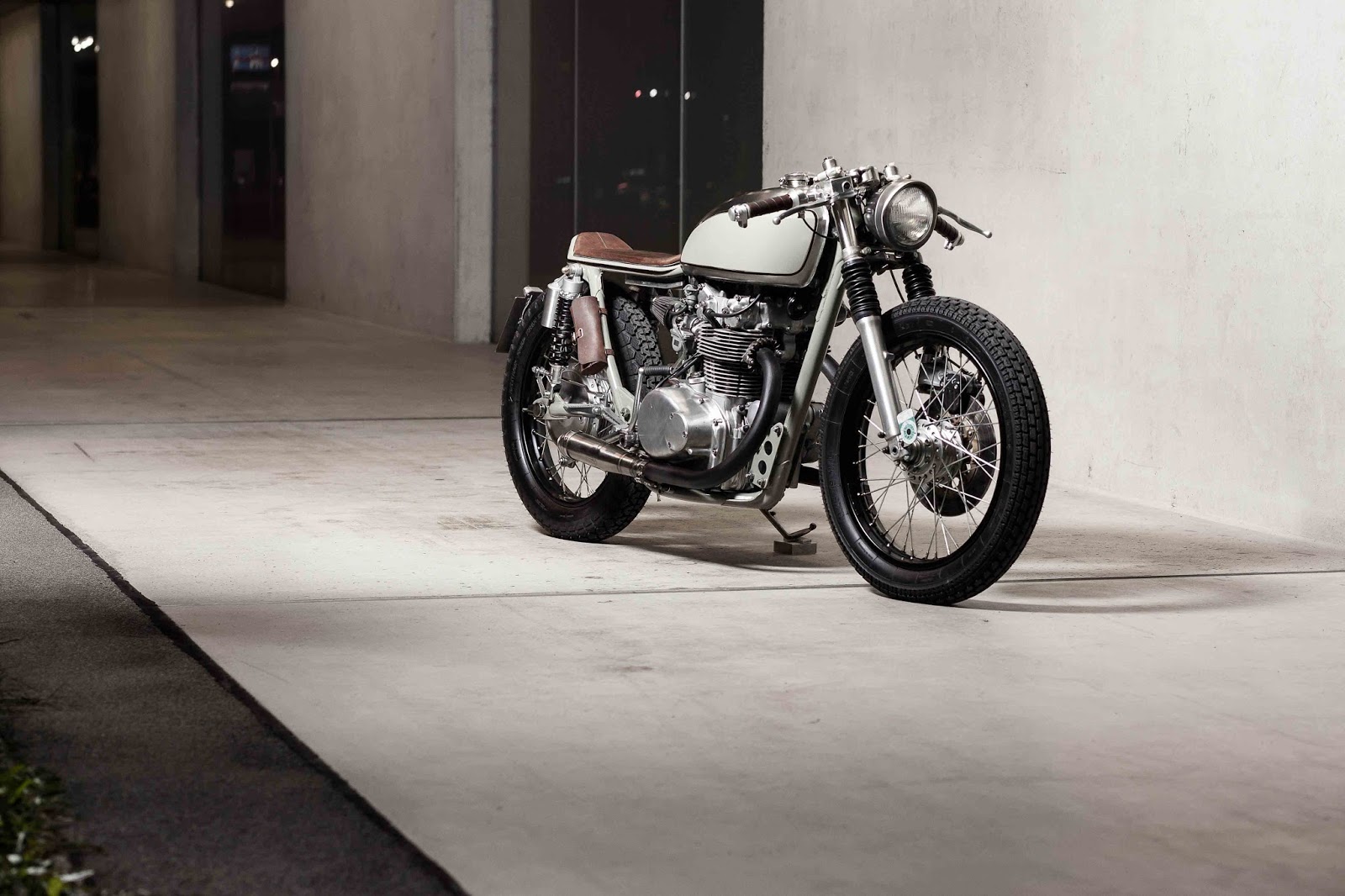 Tying everything together on Vagabund's Honda CB450 is its industrially inspired paint scheme. A moss green, satin black and raw alloy mix of finishes embellished with brass fixtures and brown leather upholstery.
Despite being on the custom motorcycle scene for less than 12 months, Vagabund Moto have also completed a stunning BMW R100R Scrambler that you can see on the Bless This Stuff website. With builds like these to launch their new brand we're sure that 2016 will be an exciting year for Paul and Philipps new venture.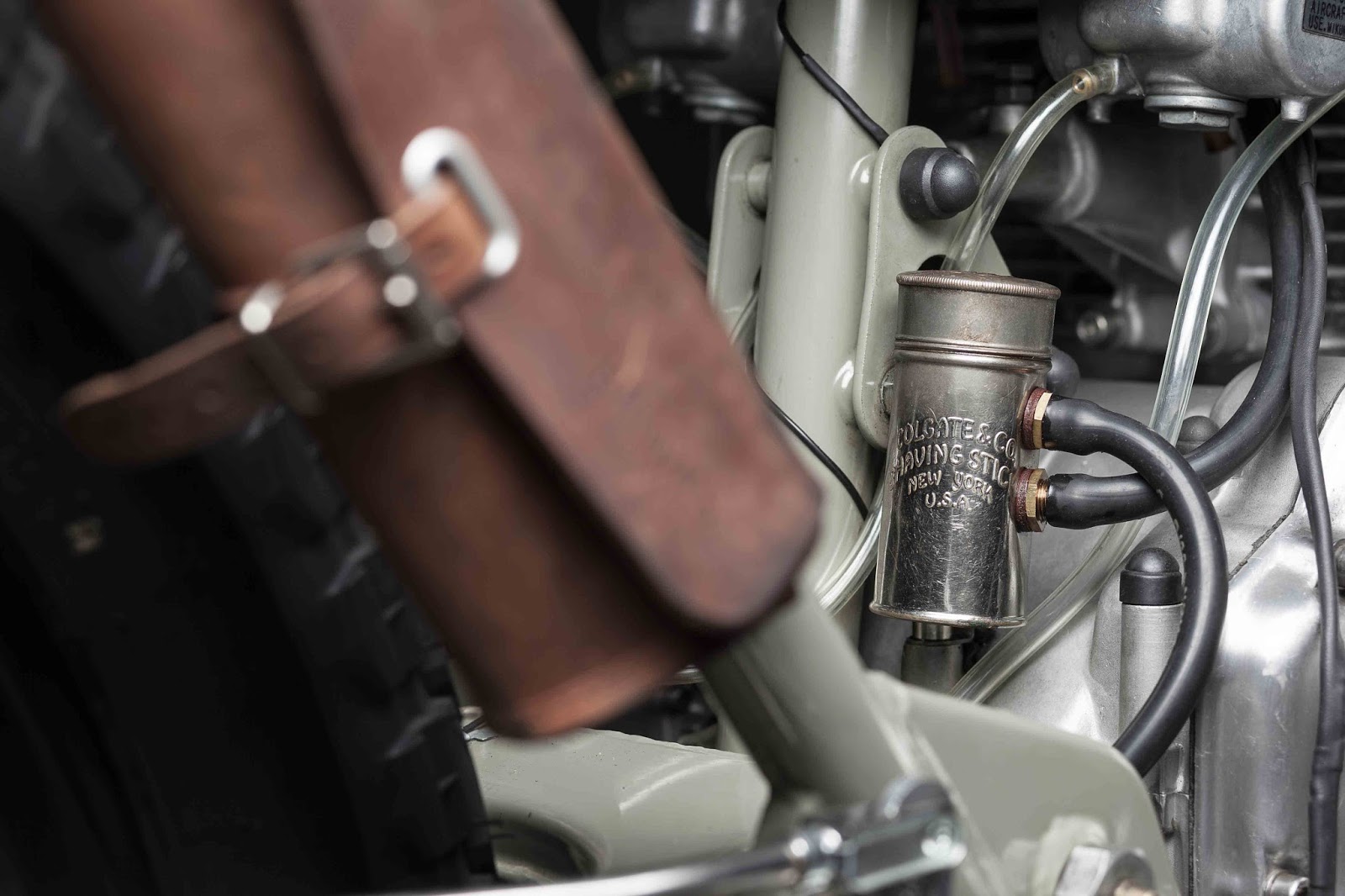 Often what occurs in between the stages of concept and completion can result in differences between one and the other. However when you combine the keen eye of a talented designer with the skills of a mechanical engineer things tend not to get lost in translation. This was exactly the case when it came to piecing together Vagabund Moto's Honda CB450 K5 Cafe Racer. The bike was the first project to be completed under the Vagabund Moto name and it's an almost identical interpretation of the pairs original concept, from the leather tool pouch to the custom made exhaust.