Australian riding gear manufacturer Saint has succeeded in creating motorcycle riding gear that works well and looks great, but their latest achievement takes things to the next level. These are the Saint Unbreakable 6 riding jeans and they're the companies first CE Level 1 certified, single layer riding jeans.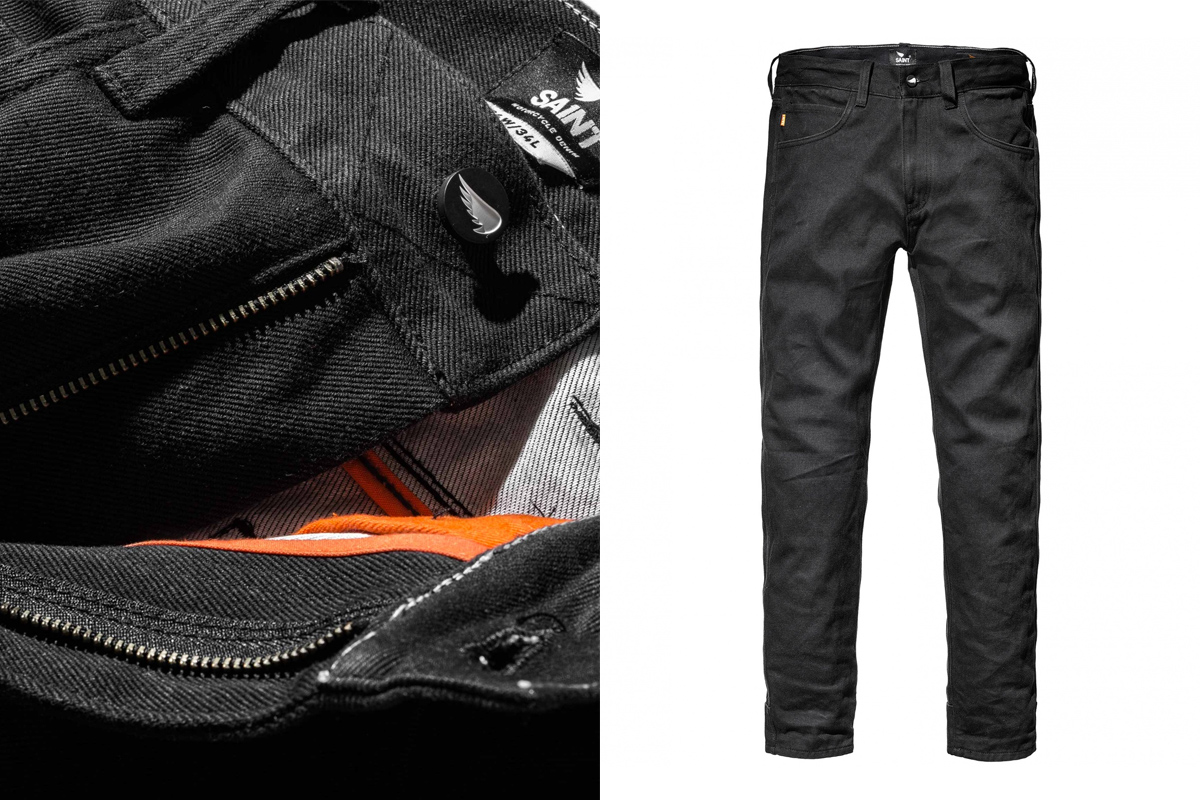 I'm going to be completely upfront and let you know that the Unbreakable 6 jeans aren't cheap. At $600 USD they're definitely a premium product. I was lucky enough to be given a pair to conduct my own review, but this price, unfortunately, will make these jeans too expensive for some people. However, I urge you to also check out their other, lower priced jeans after reading this review.
The good news is that the Unbreakable 6 jeans aren't just a product that's using brand popularity and good looks to charge a premium. They are a technically advanced, tested and approved product developed with the aim of improving motorcycle riding gear technology.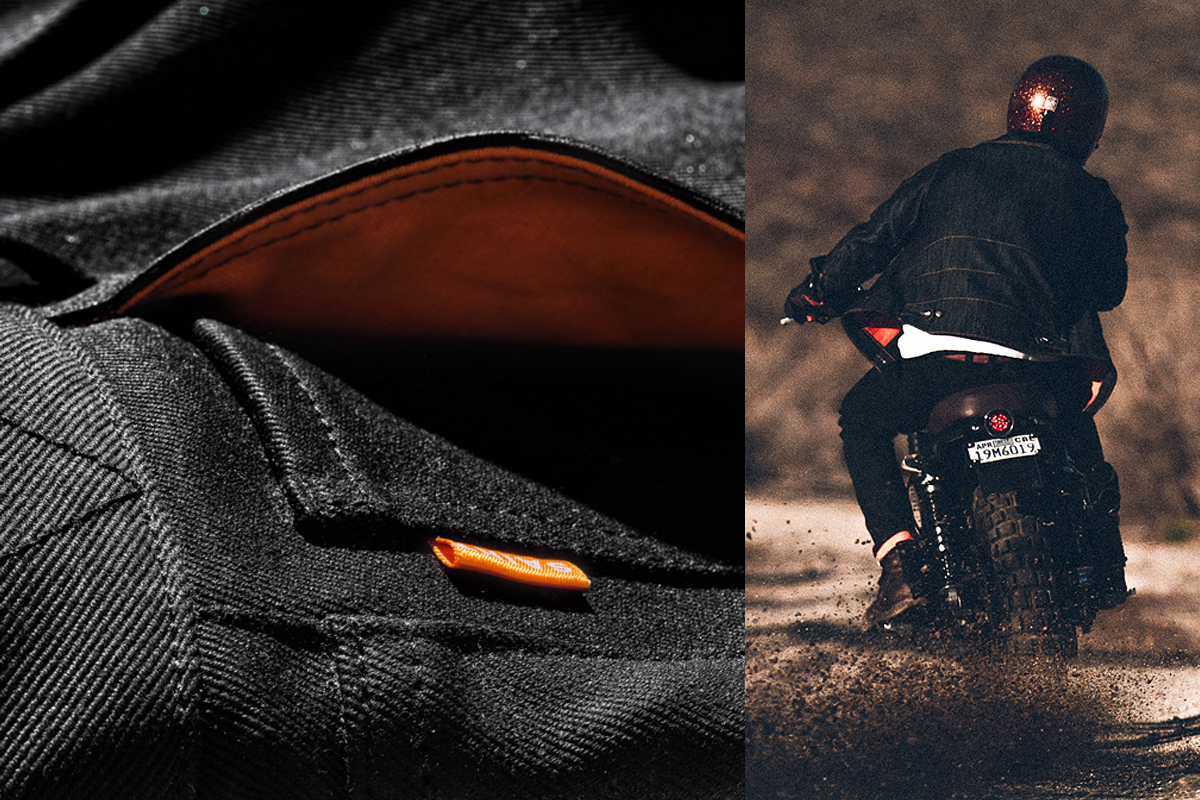 Yes, they do look great. Black is my second favourite colour (after black) and I usually wear a tapered leg jean as opposed to a more relaxed boot cut, so these jeans fit right in with my everyday street wear. They look just like any other pair of non-protective denim jeans I own and they fit true to size (i.e. I usually take a 32″ and the Unbreakable 6 size 32″ was just right). The jeans have 5 pockets, 4 standard plus a coin pocket and additional belt loops in the rear to prevent the jeans from gaping at the back when you're in a riding position. The Saint wing emblem can be found sewn into the right-hand rear pocket for a nice styling detail, but other than that visible branding is almost non-existent. The cut of the leg is slightly long so I rolled the bottom of the jeans up to stop them bunching on my ankles. Interestingly the inside of the jeans is white as opposed the black exterior and Saint has added a bright orange detail to the inside to create a contrasting cuff.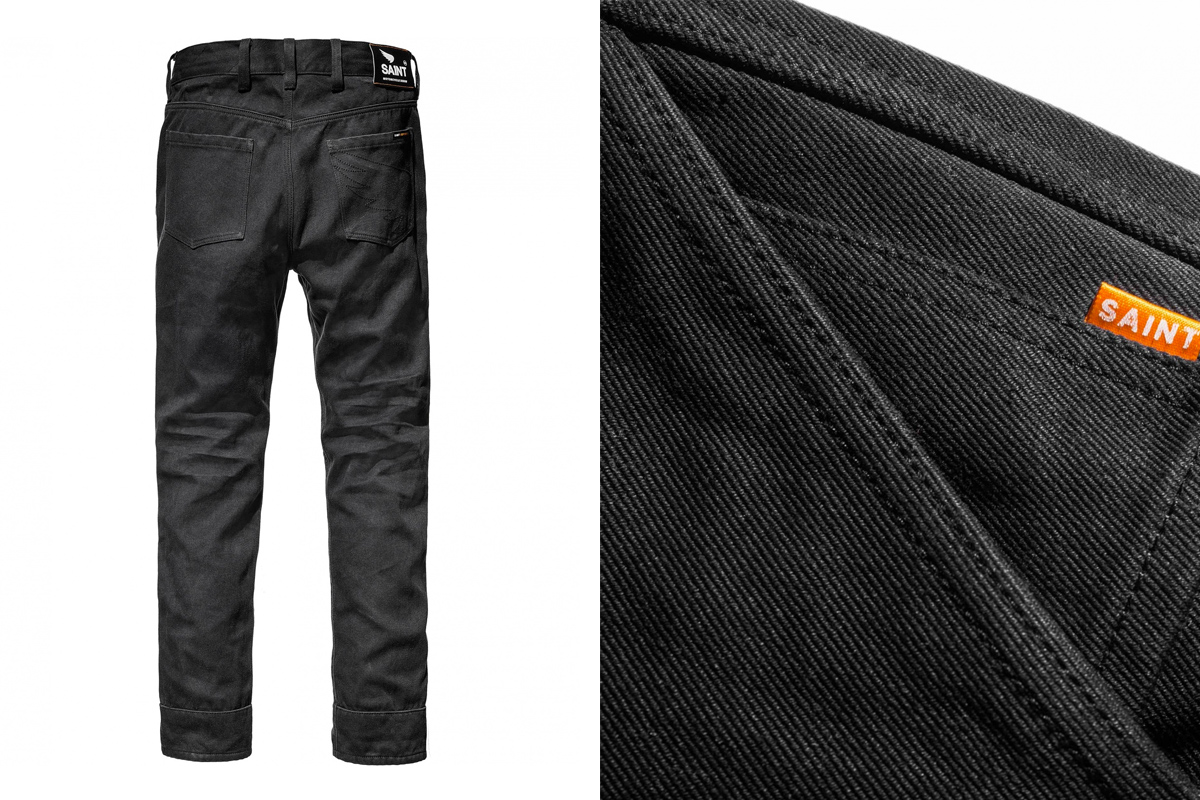 The major difference between the Unbreakable 6 jeans and the other jeans offered by Saint is their 6 second (5.9 to be exact) abrasion resistance rating. This increase in abrasion resistance is made possible by blending cotton and Ultra High Molecular Weight Polyethylene (UHMWPE) fibres using a 34% to 66% ratio. This unique recipe results in a material that is 200 times stronger than your average denim. Add to this double stitched seams and 360º impact and burst resistance and it's easy to see why they have received the CE Level 1 safety rating.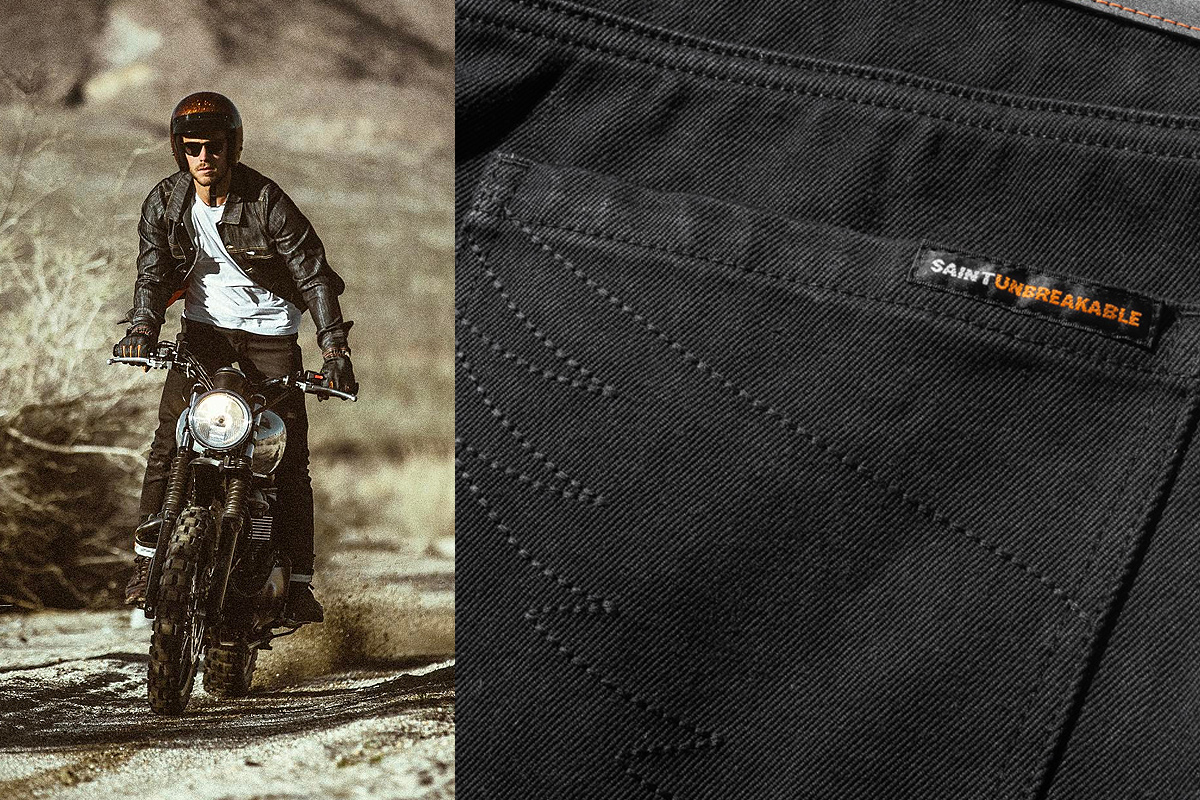 So what are these premium jeans like to wear? As I already mentioned the jeans fit just like my normal jeans making them great for on and off the bike. They are rated as 14oz so they're a heavier denim and a lack of stretch was notable when rolling up the leg to pull my tall boots on.
On cooler days I'd probably opt for a double-layer protective jean over the Unbreakable 6. The UHMWPE tends to feel cold against your skin which can make wind chill an issue. Conversely, in warmer riding conditions, the cooling properties of UHMWPE are great at reducing sweat. The inside of the jeans have a Teflon-like feel so they don't rub or bunch up and due to the strength of the material, you can expect a very long lifespan.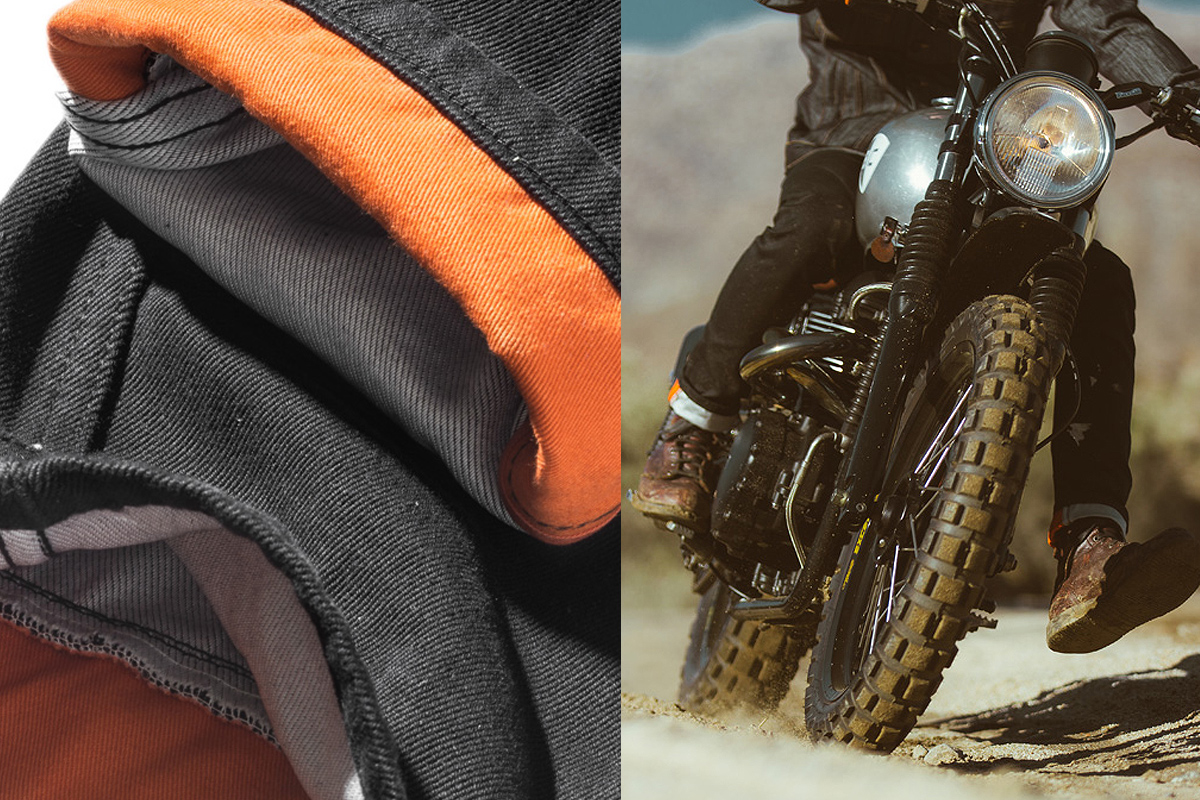 As a premium product, the Unbreakable 6 jeans deliver a level of quality and style you'd expect for the price tag. Adding impact protection in the form of internal armour would have been a nice value add, but it would be at the expense of styling, something that is obviously key to this brand's range. If you have the coin or the inclination the Unbreakable 6 jeans from Saint are well worth considering.
The Bad:
High price
No stretch
Bad insulation against the cold
The Good:
Great looking on/off bike jeans
CE Level 1 protection
Long life span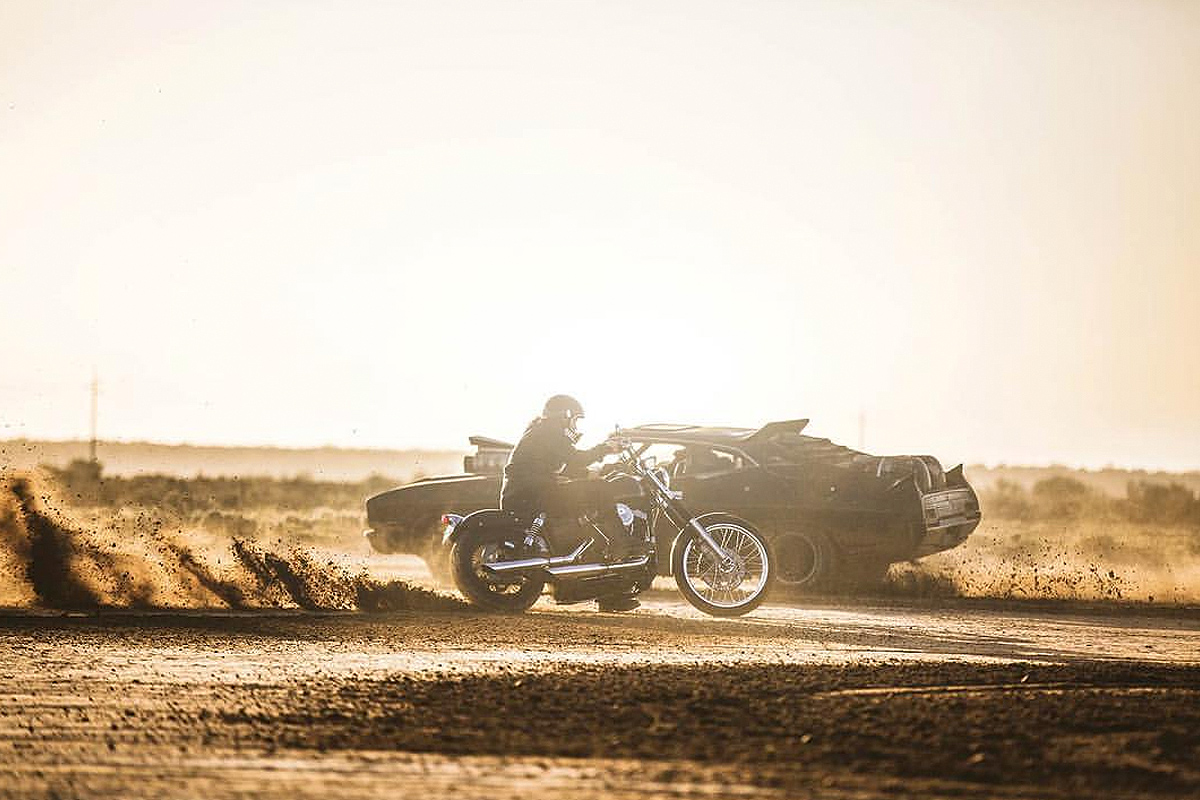 It's crazy to think that during an accident standard denim can turn to dust in a fraction of a second. During a high-speed spill, a mere 6 seconds equates to around 75m of slide time. If your Levis fall apart in the first couple of seconds I don't need to tell you what's left to slow down your slide. It's a horrible thought, but one that we as motorcyclists should not forget. Accidents happen. There's no way of knowing if it will happen to you or not, but it's up to you to determine how well protected you'll be if it does.